ABOUT US
Toscana Homes offers you an experienced team of professionals, dedicated to meeting the stringent standards essential to the successful completion of your custom home. With our extensive knowledge, personalized service and a total commitment to excellence, you can be assured of a pleasant and rewarding experience as you plan and watch your dreams come to life.
At Toscana Homes, our attention to detail begins with the home's exterior. We work closely with our clients and our team of professionals to carefully create the special touches that will bring your home's exterior to life.
The inside of your home is equally important. It can be warm and comfortable, a place to relax and enjoy life. It can also be bold and exciting, a place to entertain friends and business associates. Living in your home is your job; making every detail immaculate is ours. From the crown molding and lighting to the faux finishes and hidden ventilation, custom wood, iron and stone treatments, the finishes in your rooms bring your home to life.
OUR PRINCIPAL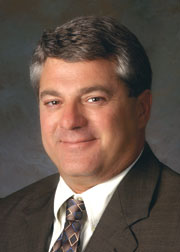 State Certified General Contractor Richard Compagnone has been providing luxury homes for over 30 years in the Naples area. From historical Old Florida Homes on infill sites in Old Naples to elaborate Mediterranean Estates in many of Southwest Florida's finest communities, Richard provides hands on supervision and attention to detail for each of his homeowners. Through the years, he has assembled an extensive database of skilled artisans, architects, and interior designers to make each and every home as individual as the client who has commissioned his services.
It is the development of lasting relationships with both his clients and professional associates that provides the basis for his reputation for honesty, fairness and outstanding finish quality. Drawing on years of experience, he has the ability to effectively value engineer his homes, selecting the right material and installation process to provide the form and function intended at a fair and reasonable cost, without sacrificing quality.
As a third generation builder and 33 year Naples resident, Richard acquired his basic training in the construction trade at an early age. Richard has had the opportunity to showcase his talents in numerous area communities including Lely, Barefoot Beach, Southport on the Bay, Aqualane Shores, Old Naples, Royal Harbor, Pine Ridge, Port Royal, Quail West, The Vineyards, Park Shore, The Moorings, Miromar Lakes, and Vanderbilt Beach. He was also selected by the Collier County Historical Society to provide major restorations to "Palm Cottage," Naples' second-oldest building.
Now, Richard has brought the benefit of his construction experience to Toscana Homes Incorporated. With his ability to orchestrate the many facets of the estate homebuilding process and his stability as a long-term leader of the Naples construction community, he would like to offer you the opportunity to experience the personal attention and total commitment to excellence that you deserve as your personal residence comes to life here in Southwest Florida.
OUR PARTNERS
Toscana Homes collaborates with a number of design professionals on each custom home we build, including architects, engineers, and designers. Here are just a few of the firms we've worked with. Click any logo to visit the company's website.